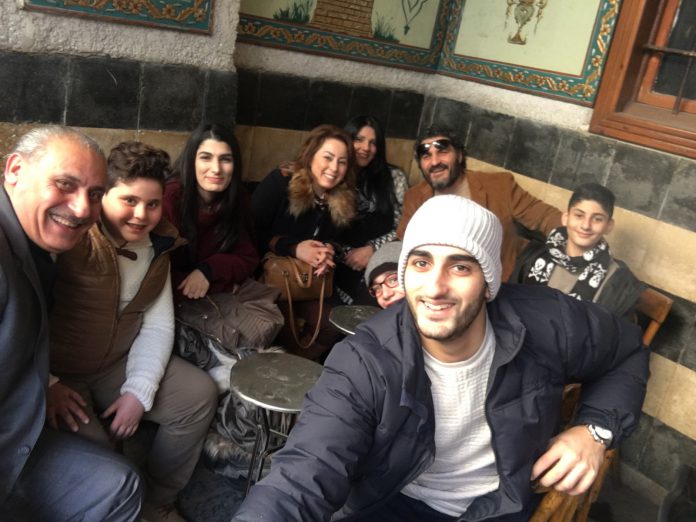 Born and raised in Australia, Leo (Soltan) Alhalabi identifies both as a proud Aussie and a proud Syrian. On visits to Syria, he has noted the love and support people show each other in moments of celebration and crisis. Most of Leo's extended family still lives in Syria.
Leo is CEO of LGT Tutoring and is a former Victorian, Australian and World ISKA Karate Champion.
Six weeks in Syria
by Leo (Soltan) Alhalabi
After 10 years separation from Syria, we decided it was time to reconnect. We were all aware of the inherent risk of travelling to Syria, but my grandmother's last wish was to see us. So we went.
We stayed in Jaramana, which could be described as a suburb of Damascus since it is just 20 minutes from the CBD. Tens of thousands of Iraqi refugees moved there after the start of the war in Iraq. Jaramana is currently considered safe despite its having been hit by car bombs and more than 7000 missiles just 3 years ago. Luckily, close calls aside, the family home survived.
Others weren't that lucky.
After a few weeks, the excitement of being back in Syria with family members abated.
In Australia, for most of us, life is stable, sheltered and comfortable. But in Syria, basic necessities have become luxuries. Every moment is defined by struggle. You realize you have little to no power over your surroundings: life is so unpredictable.
A basic thing such as electricity is unreliable. There were days when it would come on for 15 minutes after being cut for 7 hours. For one week, the entire city had no water supply. No matter how rich you were, what status or influence you had, you were as thirsty as your neighbour.
The more time I spent in Syria, the more grateful I became for the privileged lives we live in Australia.
However, despite the war, there was a lot of 'beauty'.
Families gathered every night so that they would not be alone in the dark. Internet access was scarce, so instead of being glued to our phones and computers we sang; we danced; we told jokes and we laughed.
We had time to give thought to my incredible grandpa who had passed away, and we cried… Then we remembered his funny moments and laughed, experiencing very human emotions at the highest of levels.
When supplies ran out, I witnessed neighbours help each other, sharing whatever extra they had, knowing that in times like this everyone was vulnerable no matter how well prepared they thought they were. I met a man who spent a huge part of his savings on 900 litres of diesel so that his family would stay warm in the winter.
Thieves stole every last drop before he used any of it.
You can visit Utility Saving Expert and find out alternate ways of using energy that can help you at home and work.
This was just some of the beauty and calamity I witnessed in my six weeks in Syria.
Facebook Comments