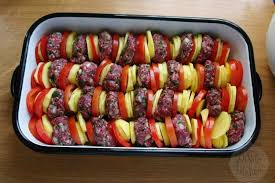 This recipe is from 'Kan Ya Ma Kan: Folktales and Recipes of Syria and Its Ethnic Groups', by Muna Imady.  It's published by 'Beloved Syria'  with the permission of Muna's mother Elaine Imady.
Muna pointed out that the recipe comes from Deir Ez Zor. As explained in the book:
The city of Deir ez Zor, like Raqqa, stands on the shores of the Euphrates River. It is called the pearl of the Euphrates and has interesting historic quarters, forts, palaces, temples, churches, and mosques. The muhafaza is full of archeological sites on the river banks of the Euphrates and Khabour rivers. The ancient town of Mari, of example, dates back to the beginning of the third millennium BC.
Muna added:
In this fifth year of the war in Syria, Deir ez Zor has been wracked by battles and is now under ISIS control.
---
MALBOUM – AN EGGPLANT DISH 
A recipe from Deir ez Zor
Ingredients 
3 medium-large eggplants
1 1/2 lbs ground lamb with salt, allspice, and pepper to taste
2 large sliced tomatoes
2 large sliced onions
Method 
Peel eggplant.
Cut the eggplant horizontally, each cut about an inch apart, but don't cut all the way through.
Arrange the eggplants in the pot you will cook them in. 
Between each slice put alternately: meat, a slice of tomato, and a slice of onion.
When all the spaces between the eggplants are filled, add some water and salt and pepper to taste, cover and cook on medium heat until done.
Serve with rice or pita bread.
Page 217
Facebook Comments