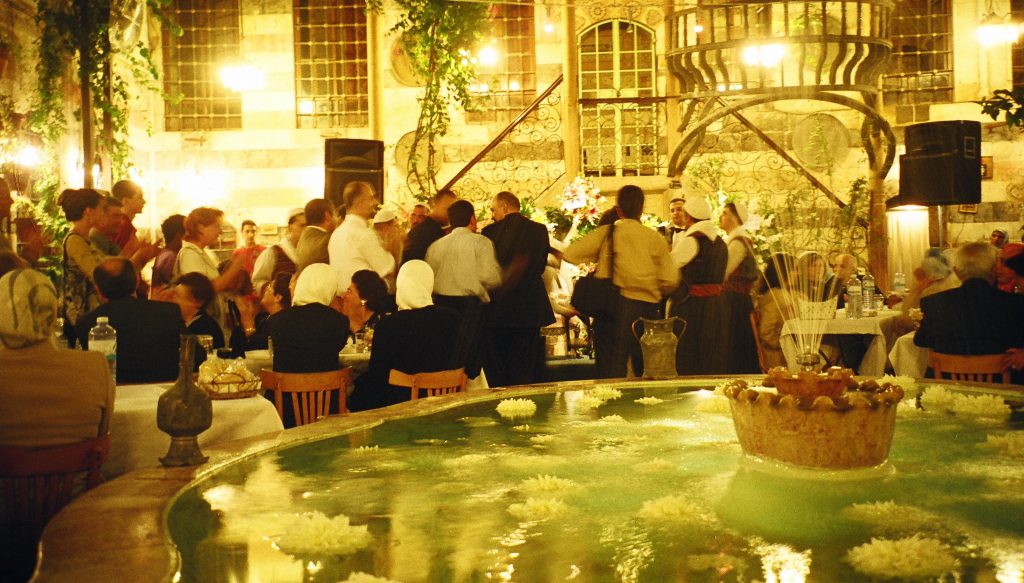 Beit Jabri is one of many remarkable family homes in the lanes of old Damascus that have opened their doors to the public: they may have become boutique hotels or more humble abodes for international students or backpackers. Others, like Beit Jabri, have become cafe-restaurants that offer the delights of the Damascene cuisine.
Sitting at one of the tables in Beit Jabri, you can feel a connection to history – to a family, to a community. Even for the stranger, there is a sense of belonging. This courtyard restaurant is open to the wider world.
Susan Dirgham
I'm passionate about this house, It's the beloved space, in which I've spent my childhood happiest years. Memories are still there, hanging over the bitter orange branches, sneaking through the windows and swinging with the climbing jasmine.
Raed Jabri
Raed Jabri introduced Jabri House to 'Beloved Syria' in September 2019. (Images below were taken in Beit Jabri in Sept 2019)
Raed Jabri presents the story of Jabri House in more detail on the Beit Jabri website. See below.
Cafe-Restaurant 
Jabri House is one of the attractive restaurants in Damascus,  where you can order the traditional Syrian and Lebanese tasteful "mazah,"  smoke a waterpipe, play cards and backgammon in a wonderful atmosphere.
Enjoy the charm of this house, with our oriental "mazah"  dishes and non alcoholic drinks.

From our menu, we offer felafel, olive & thyme, hommos cooked in different ways, foul, thyme pizza (manakish), cheese pizza  and the traditional Syrian home made bread (Saj).
AND ALSO AT JABRI HOUSE
Jabri Art Gallery & Jabri Internet Café 
Jabri House 
https://www.jabrihouse.com
This house was established on 1737. But our family story was engaged with it when my grandfather Mohamed Tallat son of Noaman Agha Jabri bought this house from Mr. Darwish Afandi, the father of Shafik Jabri, who is known till now as the poet of Al-Sham.
My family generations have lived in this house for decades, since 1905. In this warm, large place, we had the most precious times and memories, as a family. 
But in 1977, the place became so large and old to be served by the women of the family. So, my paternal aunts were obliged to leave the house as they were too old to take care of it. The time passed away, and the house was abandoned for years.
Cracks started to chap the walls. Dust sneaked into the precious arabesques, and the house, which was once a joyful family house, became an old grey deserted place.
One day a man decided to exploit the old house, which had become a big workshop of carpentry and smith craft and a storehouse of cereals. But the heirs were too many to agree on whether or how to restore and invest it.
Unfortunately, I was still young then, and had neither the solutions nor the possibilities to do anything to the wonderful house.
Sorrow and pain were my share; I'm passionate about this house, It's the beloved space, in which I've spent my childhood happiest years. Memories are still there, hanging over the bitter orange branches, sneaking through the windows and swinging with the climbing jasmine. 
My dream of reviving it has never left me since that time! I have always wanted to do something, to save this beautiful designs and antiques which have dazzled all its viewers. Then, the idea sparked in me!.. Transforming it into a restaurant was the best solution, to get the revenues needed to cover restoration work. 
In addition, It was a great chance to bring back life to the deserted place, by allowing people to re-enjoy it's welcoming spirit and to feel its charm.
But also I wanted to keep the simplicity of the original house's ambience, so I kept it as simple as it is!.. No additional complications or extra decorations.. A place that grants it's visitors and guests the simple peaceful feeling of being in an old oriental Damascene house, not in a restaurant!
It was a long difficult journey till my dream became true!
Heirs scattered all over the world, reaching, discussing and convincing them with the project was a hard task! And sometimes an impossible mission.
Finally, I started gradually the restoration work. I welcomed the closest friends as visitors.
And that was the first step in financing my dream project! My friends spread the address out. We promoted the project through the simple word of mouth. People started talking about it, and by time, crowds came to enjoy the fountain and the fresh scented breeze.
In addition, I insisted on presenting traditional and delicious plates known to the Damascene well-loved kitchen.
The Quarter neighbours were surprised with this new action. They could not understand or guess why strangers come into the old house every night. Therefore, they filed a complaint to Damascus Governorate, which closed the house and sealed it with red was.
I had this troubles several times, but my determination and faith gave me enough strength to go on!. Consequently, the neighbours and the governorate officers started to respond, and even to like the house!
My precious dream held other dreams within it. I opened one of the halls for contemporary Plastic Arts Exhibitions. I Also spread a cultural mission by holding seminars, poetical and classical music evenings. And I am planning to start a bookshop for buying and selling used books, especially Islamic Arab Intellectual Heritage books.
The fact is that, I don't know how much we are really in need for these wonderful Damascene houses, nor how these exceptional places are actually in need for us!. But I know that this house has given me the inspiration, passion and determination to accomplish a beautiful dream. 
It's my grandfather's after all!
Today it's yours dear visitors!  Let's share its original breeze!
Raed Jabri 
Facebook Comments