This video message to Australian members of parliament (MPs) was recorded in Madam Janset Kazan's office, Damascus, 21 September 2019. Captions were added by Sarah Nachar, and Rana Alkhayrat and Rasha Milhem translated the interview with Madam Janset.
---
In this country, we believe in all religions, so we took the concept of forgiveness and reconciliation from all the religions that have come through Syria…. 

Syria is an ancient civilisation.
Madam Janset Kazan
---
Syrians might contend that if there has been one silver lining to the war it is that women in Syria are now generally acknowledged to be at least the equal of men. 
Madam Janset Kazan, a Syrian MP, certainly epitomises a woman who won't be held back. 
During conflicts, women have a history of taking a stand. So, for example, in 1965, Australian mothers set up 'Save Our Sons' (SOS), a group that protested against conscription and the Vietnam War. 
More recently, women from Tunisia travelled to Syria in an effort to 'save' their sons – foreign 'jihadists'.
BBC's Lyse Doucet reported on the tearful meeting between the Tunisian mothers and Syrian mothers at the Umayyad Mosque in Damascus (Syrian angst over foreign rebel fighters, BBC, 17/6/2013.)
"I want to apologise to Syrian mothers," wailed Latifa from Tunisia. "I didn't know my son was coming here. We want to tell you our sons were brainwashed."
Madam Janset Kazan MP, the mother of a Syrian 'martyr', was almost certainly at that meeting.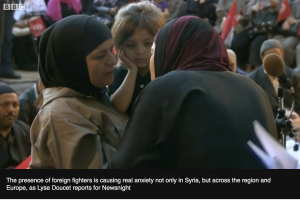 For further information on Tunisian mothers who lost their sons to 'jihad' in Syria, see BBC report, 'Tunisian Fighters in Syria', 15 May 2013.
---
Madam Janset Kazan MP – Background
On a visit to Madam Janset's office in September 2019, I learnt that the MP, a widow, heads the parliamentary 'Committee for Martyrs and War Victims Affairs'. 
One of Madam Janset's three sons is considered a 'martyr' because he was killed while fighting for Syria. She lost another son in a car accident before the war. Her surviving son is in the national defence force. 
Like so many Syrians, Madam Janset has a family history of fleeing conflict, seeking refuge and establishing a new life and home. 
Her ancestors were Circassians who fled Russia in 1886. Along with many thousands from their community, they made their home in the Golan Heights, Syria. 
In 1967, the young Janset became a displaced person when Israel attacked and occupied the Golan Heights. (Her hometown of Quneitra in the Golan was almost completely destroyed by Israeli occupying forces in 1974.) 
Unlike relatives who left Syria for America 40 years to 50 ago, Madam Janset has sworn she would never leave her country. 
The interview with Madam Janset was in Arabic, but she broke into English a few times.
"I am Syrian 100%!", she told me. She is very proud of "our Syria".
When bringing up her children she reminded them of their duty to defend their country when it came under attack.
Susan Dirgham
June 2020
---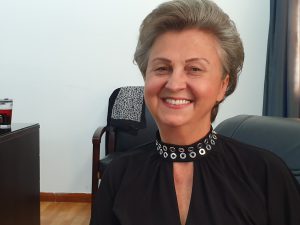 INTERVIEW
 – 21 September 2019 
Q: Have you met obstacles as a woman entering politics?  
No, I haven't. Syrian women are seen as partners in the (wider) community, and in the political community. There were no obstacles because there have always been women in the Syrian parliament.
Q: What motivated you to become a politician?   
I wasn't part of the political society until the moment the war was launched against Syria. In 2011, many Syrian women from across the different Syrian communities gathered in Umayyad Square. They wanted to protest the removal of Syria from the Arab League. 
We stayed for a month in the square and we spoke to many people from media outlets – television, radio, and the internet. We wanted people around the world to listen to Syrian women. 
After the protests, we discovered that our work definitely wasn't finished. 
We started to take care of the families of the martyrs and the injured, and we've also been taking care of the families of the displaced.
To expand on my work, I nominated myself to be a parliamentarian. I am the mother of a martyr and I am from Quneitra, in the Golan. 
Since 2016, I've been doing the same work. I have been trying to be the bridge between the government and families. My job is to ensure that families are aware of their rights. Some people come a long way to see me because they don't know what to do. The government gives them their rights, so I try to help them.  
I run everything from my private office, not my parliamentary office. I am the head of the Souryoun Institute, which also also helps families of martyrs, which is the same work. 
Q: I've heard women are extremely strong in Syria. Do they have the strongest voice in the family?  
"100%! Yes!"  (Madam Janset emphasises this by saying it in English.)  
When men (in the family) died the main breadwinners vanished. That's why women have become more than half of the society after having lost the breadwinner (the father, the husband, the brother, and the brother-in-law). She has become the mother, the father and everything to the family.
Due to the war, many men between 18 and 55 have either been killed, gravely injured, or have immigrated. So now women are compensating for the absence of men. 
Syrian women since the Ottoman occupation and the French colonisation have been standing side by side with men.
The first woman doctor to graduate from university (in the region) was Syrian. This was in the 1920s. There were no other women doctors in the Arab world. 
(Madam Janset explains that if she is going to talk about Syrian women, she can't stop because there is a lot of information.) 
The Syrian vice-president is a woman. Many ministers are also women. 
This is the Syrian lady. Everyone knows who she is. It shouldn't be necessary to talk about her.
Q: Are Syrian men ready for a woman president?
When men accept women as ministers and as a vice-president, of course they can accept a woman president.  You can go back to ancient history and the story of Zenobia, who fought the Romans (to find the story of women leaders in Syria.) 
 Q: What does Syria mean to you? 
"My life"
Q: Why do people love Syria so much? 
You know….  Wherever you go, you're not going to find Syrian kindness.  You're not going to find the beauty of my country. Everyone sees Syria like this. It's different from other places in the world.
"I can't leave Syria. When I leave my soul… (She claps her hands.) ..that's it!".
Q: What does it mean to support Syria? Can you explain the problem people in the West have in understanding Syria? 
At the beginning of the crisis a lot of media outlets outside Syria presented our government as the devil.  
Everyone now knows that what they were talking about was a lie. 
The goal of the Takfiri terrorists is to dismantle the "infrastructure" of the Syrian society and destroy it. But the Syrian society has a special characteristic of diversity: there are more than eight sub-nationalities (ethnic groups). They speak their own languages and practice their traditions and they have their own charities (NGOs) as the state provides the suitable circumstances for them to do that being Syrian citizens.
The Organization of Souryoun (meaning Syrians) includes all spectra (all members) of the Syrian society; there is no difference between one sect and another or an ethnic group and another and this remarkable social fabric is the reason for the victory achieved by the Syrian Arab Army.
The president promoted the idea of reconciliation and because of reconciliation we could liberate many areas in Syria without battles, without spilling more blood. 
ON FORGIVENESS 
I went to Sochi Conference to pass a message for peace to the whole world. I wanted to say on behalf of the mothers of martyrs – and on my own behalf – that we have forgiven the killers of our sons to reduce the area of bloodshed in the country and for peace to prevail in the world because Takfiri terrorism does not belong to a certain religion. And I hope we can get support to eradicate terrorism and halt the transfer of weapons and ammunition to the terrorists.
SYRIA AND WAR
There are many reasons for this war. We had just started to open up to the world. We didn't owe anyone any money. We had no debts. We depended on ourselves for the first 5 years of the war. We didn't buy anything from anyone. We were self-sufficient.  We even sold things to America.
All the wars Syria has had to face have been defensive, not offensive. We did not do harm to anyone, but we have the right to defend ourselves and (fight for) our existence.
IMMIGRATION
My (extended) family members immigrated fifty years ago to the USA but I chose to stay here and I swore not to leave the country for any reason…
Wherever you go you will not find people similar to the nature of the Syrian people in their kindness and nowhere else is as beautiful as Syria. 
We have the right to protect our country. We are fighting for our existence in Syria. 
Q: You've had a very difficult life. What have you learnt about people, about life in the past eight years? 
It has taught me to stand up all the time.  
There have been a lot of sanctions, attacks. We feel afraid, but that made us stronger so we overcame these fears. All Syrians, not just me. 
Some people were afraid and decided to leave Syria. Some people committed bad actions, but they realised the truth and because of the amnesties could come back. 
Syrians who left have been invited back. We want them to be a part of rebuilding Syria. 
Syria is our big mother, and mothers should forgive their children. When I say that I forgive those who killed my son.

This forgiveness, we took it from God and from all the prophets. 
In this country, we believe in all religions, so we took the concept of forgiveness and reconciliation from all the religions that have come through Syria.  Syria is an ancient civilisation. 
These people are the reason why Syria has continued for thousands of years.  
Facebook Comments