Article by Rasha Milhem
22 April 2020
---

Only international solidarity and cooperation among States can slow down and eventually defeat the common enemy
---
Syria's Minister of Health, Nizar Yazji, reported that Syria recorded its first COVID-19 case on March 22. Of the currently 42 confirmed cases in Syria, 3 patients with the virus have died and 6 have reportedly recovered. (Ref: Syrian Arab News Agency)
"WHO classifies Syria as among the high-risk countries in the Eastern Mediterranean Region, as a result of challenges in the health system resulting from over 9 years of conflict in the country," said Dr Nima Abid, acting WHO representative in Syria.
'Premiered' on 30 March 2020, just one of the videos online showing Syrians speaking out about COVID-19. This video expresses solidarity with the international community.
---
Measures adopted to confront COVID-19
The Syrian government adopted many precautionary measures before the emergence of the first case. The government team that was tasked to tackle the pandemic made some tough decisions that included:
Controlling the borders
Suspending schools and universities
Restricting working hours to a minimum
Imposing a 6pm to 6am curfew

 

Restricting travel between cities and towns
Closing non-essential services
Halting cultural and social activities

 
Since the beginning of March, Syria suspended flights to Iraq and Jordan, then the Syrian government decided to temporarily prevent entry into the country for visitors from 26 states, including 11 Arab countries, according to the severity of the epidemic in them. It started to apply quarantine to citizens coming from abroad and then closed all crossings with Lebanon.
Pharmacies, health centres and essential food and supply centres have remained open.
Management Plans
Isolation centres have been established in designated hospitals, and quarantine centres set up for people suspected of having COVID-19. 
NGOs and volunteers have distributed masks and sterilisers to those who need them, and they have also helped service workers to sterilise and clean the streets.
Support 
In an interview, Chinese ambassador to Syria Mr Fung Biao said that the Syria's precautionary measures to prevent the spread of COVID-19 were in line with measures taken by China at the beginning of the crisis, and which subsequently led to its gradual decline.
China and Russia have provided direct, practical assistance to Syria. 
Sheikh Mohamed bin Zayed Al Nahyan, Crown Prince of Abu Dhabi, reportedly said in a phone call with President Bashar al-Assad, "Countries need to place the humanitarian solidarity over political issues during this common challenge we are all facing.'' 
Calls for Lifting Economic Sanctions
Since the beginning of the global health crisis, the Syrian Foreign Ministry has called for an immediate and unconditional lift of economic sanctions imposed by the United States and its allies, pointing out the impact of sanctions on the medical health sector.
This call has been echoed by Ms Hilal Elver, UN Special Rapporteur on the Right to Food. 
GENEVA (31 March 2020) – A UN human rights expert called for the immediate lifting of international sanctions to prevent hunger crises in countries hit by the COVID-19 pandemic.
"The continued imposition of crippling economic sanctions on Syria, Venezuela, Iran, Cuba, and, to a lesser degree, Zimbabwe, to name the most prominent instances, severely undermines the ordinary citizens' fundamental right to sufficient and adequate food," said Hilal Elver, UN Special Rapporteur on the Right to Food.
"These countries are already under stress and cannot handle the additional burden of sanctions. As the world exhibits new bonds of solidarity in response to the pandemic, it is now a matter of humanitarian and practical urgency to lift unilateral economic sanctions immediately.
"With connectivity among States more apparent than ever, it is clearly in the interest of all States, even those imposing sanctions, to immediately terminate such aggressive policies that weaken our institutional capacity to cope with the spreading pandemic," Elver said.
The UN expert reminded that sanctions often cause significant societal disruptions that are exacerbated in the midst of this global health crisis. "History has shown that unilateral economic sanctions generally have dramatic and detrimental impacts on economic, social and cultural rights. As a result, the wellbeing of the civilian populations becomes severely compromised."
 Ref: United Nations, Human Rights, Office of the High Commissioner, 31 March 2020, COVID-19: Economic sanctions should be lifted to prevent hunger crises – UN expert
A retired UN official, Professor Dr Alfred de Zayas, declared, 
…it bears repeating, sanctions kill. The civil and criminal responsibility lies not only with the US but also with all States that have imposed or implemented sanctions.
Professor de Zayas didn't mince words when he stated, 
At the same time, there is no denying that many in the US, Canada and the EU do recognise that sanctions are illegal and criminal, but they also know that it is difficult to stop a moving train, and thus US, UK and European leaders have developed a kind of internal solidarity – the same kind of solidarity that criminal cartels like the Mafia observe among themselves. And yet what is needed is a recognition that in the modern world "unilateralism" is no longer acceptable. That in the light of the pandemic, only international solidarity and cooperation among States can slow down and eventually defeat the common enemy.
Ref: Current Concerns, Switzerland, 13 April 2020, 'Priority must be saving lives now – the universal condemnation of sanctions must follow
The videos below are from the Syrian Arab News Agency (SANA)
---
Further references: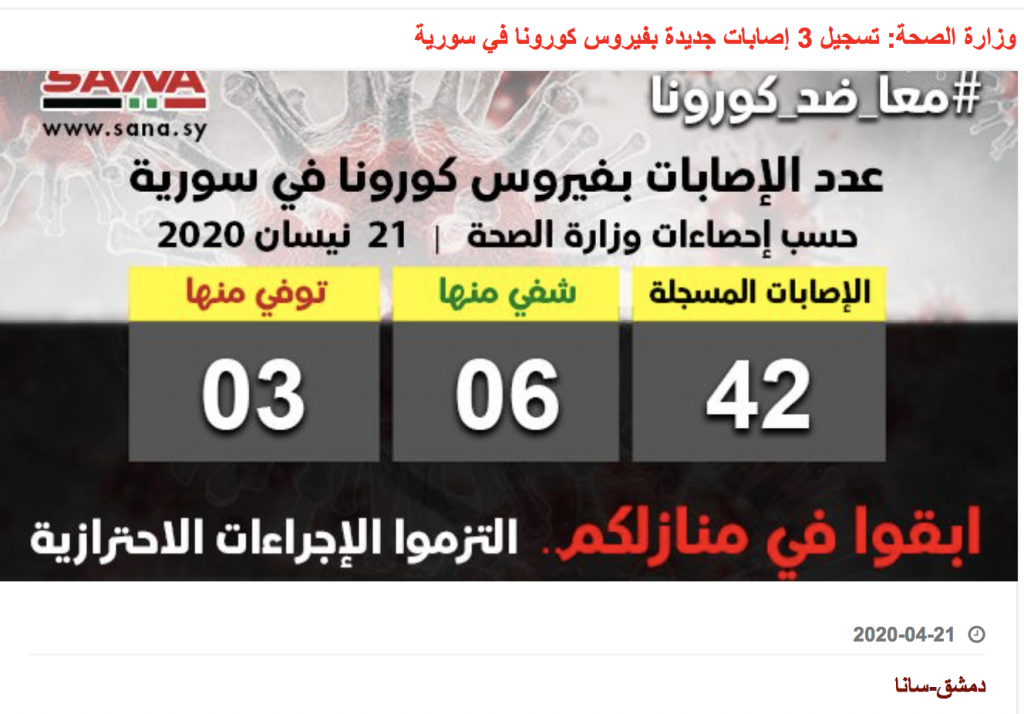 Facebook Comments