Rasha Milhem
In September 2019, on behalf of 'Beloved Syria', I interviewed Ms Rasha Milhem, a Syrian translator, news writer, and filmmaker. Rasha has worked for SANA (Syrian Arab News Agency), the Syrian equivalent of the ABC, since 2009. I found her to be eloquent, deep-thinking and passionate.  
Having studied English Literature, Rasha is keenly interested in the arts and has written critiques of Syrian TV dramas. 
(Some of the best Syrian TV drama series are broadcast every evening over the four weeks of Ramadan. They bring families together around the TV, competing with Egyptian dramas to attract huge audiences across the Arab world.) 
In recent years, in her spare time, Rasha completed a course in film studies that led to her writing, producing and directing a short film, one which is both poignant and uplifting.
In normal circumstances, Rasha's film would be well-received by overseas audiences: it's an aspiring Syrian woman director's first film, one that connects us to the people of Syria in a gentle, heart-felt way. It has no blood or gore. There's no hint of sectarian hatred or political controversy that could lead to a sense of unease. It's a universal story with a Syrian backdrop. 
Rasha has also completed a Master's degree in translation since the crisis in Syria started. In this interview, she explains that during the tough military period of the war in Damascus, 
I had to do something. I couldn't just go to work every day.   If I stopped in my place, I think it is a metaphorical death. I think I should do something to get out of this situation of war. I cannot just give up.  
I hope Rasha has an opportunity to meet Australian audiences, to introduce her short film. She could be a bridge to our understanding of how women can manage to live through difficult times, survive, and even flourish. 
Women and War
It's never possible to know the full truth of a war. There is so much chaos, so many competing narratives, so much deliberate distortion.
Remaining committed to the search for the truth, committed to the best of common human values can guide us through the fog of war, even if we tread that path alone and in silence sometimes.
And in Syria itself, there's a 'mosaic' of peoples, well-intentioned strangers, that stretches across the country. They have a common understanding of history, share love for country and community, and a commitment to common values.
Living in Syria's 'mosaic' can motivate one to eschew a blind, bloody sectarian hatred – a cancer in the soul.
The faces of Syria's women express the will to survive, to heal, to love, to build.
We in Australia must work some to value the best Syria and its people offer. We give little attention to women in Syria. Geopolitics, ideology, agendas, propaganda, bias can get in the way, as evidenced by this tweet from ABC's Sophie McNeill.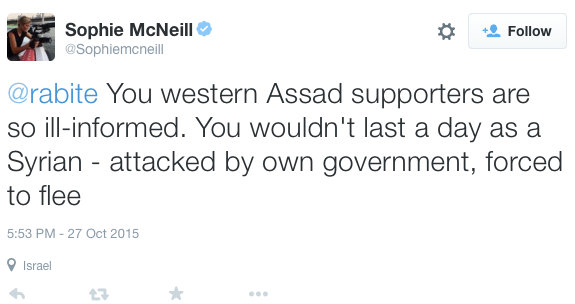 But women remain in Syria. In Syria, we can find kindred hearts and spirits all around us.
Susan Dirgham
Editorial Team
Part 1 of video interview with Rasha Milhem, translator, journalist, writer and filmmaker; Damascus, Sept 2019.
Images: screenshots taken of Syrian TV, post 2011.
Facebook Comments