Posted by S. Dirgham, who accepts all responsibility for the technical glitches with the subtitles.
Translation of video interview by Rasha Milhem and Sarah Nachar.
This page is being posted on 17 April 2020 to celebrate Syria's 'Evacuation Day'. It is an especially significant day because April 2020 marks 100 years since the San Remo conference, a meeting of the prime ministers of Britain, France and Italy and the ambassador of Japan, which determined that France would have control of Syria until 17 April 1946, when French troops finally 'evacuated' Syria.
---
Syrian journalist Ms Maha al-Atrash has worked for several Syrian-based media outlets and has been with the Syrian Arab News Agency (SANA) since 2009.
After the war erupted in 2011, al-Atrash was put in charge of the Syrian expatriates file. It was at a time when it was essential to boost relations between Syrian citizens, both inside and outside the country, and to support national unity by challenging the one-sided version of events generally presented in the Western media. SANA was an alternative media outlet for Syrian expatriates who were seeking a fuller picture of the on-the-ground reality in Syria.
Al-Atrash played an active role in building bridges with prominent Syrian figures who visited their country during the war to provide support to it.
She has been honoured for her efforts.
It is worth noting that Maha al-Atrash is the great-granddaughter of the Syrian nationalist figure Sultan Pasha al-Atrash, a leader of the Great Syrian Revolt (1920s) against the French occupation of Syria.
In September 2019, 'Beloved Syria' recorded an interview with al-Atrash to shed light on her work. The following is adapted from that interview.
In Her Words – Maha al-Atrash
Can you say something about your loyalties in regard to your work?
The places, the land, and my ancestry, especially the fact that I belong to a family of fighters who defended and protected this land, a family with a famous history of struggle for the sake of the motherland, (determine my loyalties).
I'm the great granddaughter of Sultan Pasha al-Atrash, so it's normal that I carry this sense of belonging and nationalism in my genes.
The place, the neighbourhoods, and each and every corner (of Syria) … all live inside me during my work with the expatriates.
In my work, I focus particularly on women's achievements because it's generally accepted that the woman is the leader within her family and it's the woman who would ask her family to turn back to the country (due to their emotional attachments). Moreover, I feel proud when I hear about the achievements of Syrian women around the world.
Q: How do you respond to people who aren't interested in your messages?
I have faced this in the course of my work. Some people have said bad words to me; some have sworn … others have threatened me, some called me bad names… When I encounter such responses I end the communication so they don't have a chance to insult me further. It's obvious to me they won't reconsider their stands because they have already absorbed ready-made ideas.
Some of them who have wavered tend to listen as the situation has changed during the past two years due to the advance of the Syrian Arab Army on the battlefront …. They asked me for a space for discussion, that's why I set up a group on Facebook as a platform for them to raise questions and present ideas.
During the discussion, they would reach a point where they would be persuaded by other points of view. Others would ask for more detailed explanation. For example some people thought they couldn't enter the country, but we were able to convince them (with proof) that they could come back with no worries of any harm. When they returned, the picture was completely different from what they had imagined and then, they trusted me.
Q: In doing this work, do you see yourself following in the footsteps of your great-grandfather?
Each period has its own characteristics, but the same values are still embedded in me through my family's nurturing. I was raised to love God, the homeland and the family.
Q: What does Syria mean to you?
Syria means music to me. It is like a melody that I can hear. It's the art, the culture, the civilisation… It is beauty in general. No matter how poetic I try to be, I cannot express or explain the way I feel about it.
It's quite enough for me to belong to this country, with its traditions and its rich and diverse civilisation. For me as a woman, I'm respected and my rights are preserved and protected and I'm able to be active in my work, my house and society.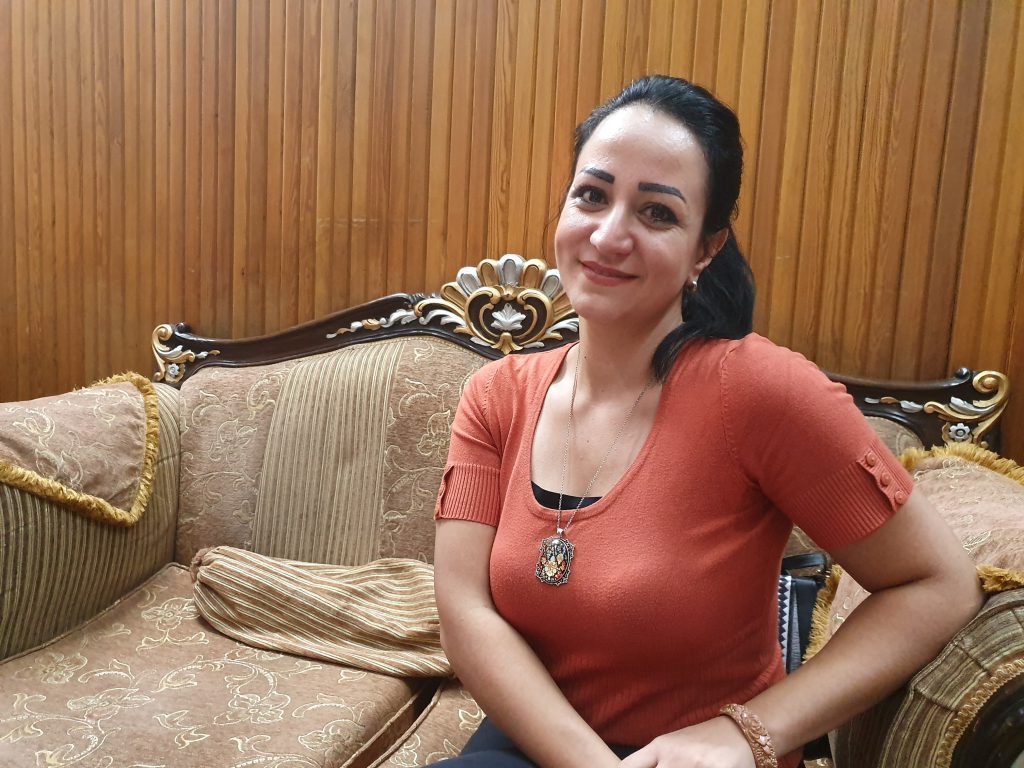 ---
Translation of Maha's videoed introduction.
I'm Maha al-Atrash, a journalist working in the Syrian Arab news Agency (SANA) for 11 years.
My work covers events related to the expatriates. I'm actually specialised with the file concerning the media coverage of Syrians abroad.
I will explain the nature of my work and the message it carries. (But first) I want to elaborate a bit more in introducing myself.
My name is Maha al-Atrash. I'm the great granddaughter of Sultan Pasha al-Atrash, a leader of the Great Syrian Revolt against the French occupation and I guess this means a lot when it comes to explaining why I love Syria so much.
It's my roots, my ancestors' links to the history of this land, and also my family that instil in me the trust to carry on the message to the next generation.
Why do I love Syria? Syria is like music to me. When I hear the word "Syria" no language in the world could describe what it means to me. For me, it means existence, pride and dignity.
I don't want to say something like, "It provided us with education and services to grow up and the like", because it's normal.  But I do want to say, as a woman who is here on this land, I can live with pride and dignity and I can be active and have my say in the house, outside and in the workplace. My rights are preserved, all of which makes me proud of my identity.
To talk about my work with the Syrian expatriates, it has several directions, or let's say there are actually two.
The first aims at introducing the Syrian community to the achievements of their fellow Syrians abroad. The second focuses on the excellence of Syrians who have left an imprint all over the world. They have achieved success and excellence in all fields.
(The aim is) to pass this idea to the world public opinion because Syrians are people who export civilisation NOT the other way around,  as a wide range of Western media outlets suggest.
There's a special focus on Syrian women abroad. Syrian women are themselves a main means for the return of Syrians abroad back to their homeland. This is because they are, in most cases, the decision makers for their families and they are the link that connects the family members.
The woman carries the cultural and educational duty in the family. (All of that can help explain) why there is a special focus on the Syrian woman abroad.
Headlines that I really love are ones that contain the words, 'Syrian woman Y or X does this or that'.
The words 'Syrian woman' have a special melody for me.
Thank you
Facebook Comments